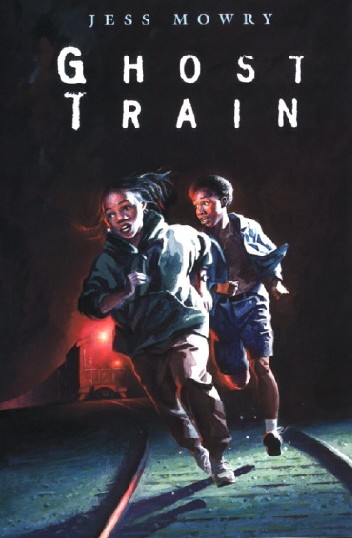 FIRST U.S. HARDCOVER EDITION
To see all editions, click JESS MOWRY BOOKS in the navigation bar.
This page contains notes and reviews. To read the first chapter of this novel click GHOST TRAIN in the navigation bar.

Some Reviews
Here is an action-packed plot as two contemporary teens try to solve the mystery of a locomotive that rumbles by on rusty tracks of a half-century ago. In the predawn hours of 1996, a horrified Remi sees a man shot in wartime oakland near the shipyards. He confides this ghostly vision to his new friend, Niya. Mowry captures the urban slang and attitude.
Niya snorted."Yo, Remi! Get a clue! I don't know what the laws are like where you come from, but this's America! Cops don't care about dead black people today! What you figure the gonna do 'bout some poor brutha gettin' ... capped fifty years ago?"
Within the novel the characters discuss racial tensions as fact, the cause of myriad inequalities. There is an authentic sound to the place, time and the injustice. Remi, newly arrived from Haiti, is troubled by the "uncaring and cold" faces.
Remi had seen many such faces on policemen and soldiers, on shop-keepers, clerks and immigration officials. He had seen those same faces already on American TV. Not all were white, but all seemed to harbor some secret hate.
What will appeal most to the middle reader is the heroic attempts of two adolescents to solve a murder mystery and their efforts to stop the ghost train that ruses past remi's window every night.
Joanna H. Kraus - School Library Journal: 12/92
________________________________________________________
Old-fashioned suspense co-exists with a modern-day setting in this short, easy-to-read, and very successful mystery. On Remi DuMont's first night in his new home, a train thunders past his window and he watches a murder being committed. Remi, 13, is a recent immigrant from Haiti to Oakland, CA. He shares his father's interest in Voodun and the supernatural. He soon realizes that the late-night train is a ghost train and the murder reenacted on it nightly actually happened more than 50 years ago. As the boy and his new friend Niya investigate, they put together the pieces of an unsolved crime and an unexplained disappearance. Then they step into the past to try to right a long-standing wrong. Niya introduces Remi to the slang and customs of the "hood" while he shares some of his knowledge of Haitian French and his family history with her. Their conversations are realistically sprinkled with four-letter-words never used by Joe Hardy or Nancy Drew (in English or French) and show an innocent and healthy appreciation of one another's sexuality, but also have moments of righteous indignation at the plight of poor minorities. Social concerns are swept aside as the mystery gains momentum and Remi, Niya, and readers are caught up in a hair-raising, life-and-death struggle with a murderer and with time itself. The ending is surprising and satisfying, but has a tinge of sorrow.
Susan L Rogers - Publishers Weekly: 9/96
_________________________________________________________
The author of the explosive Way Past Cool now takes aim at a younger audience, offering another gritty, keenly perceptive portrait of inner-city life but framing it as a ghostly tale. Haitian immigrant Remi knows that life will be different in Oakland, Calif., where refrigerators, hot running water and TV are taken for granted. But when he and his parents move into an apartment in a ramshackle Victorian house, the last thing the 13-year-old expects is to be haunted by a recurring vision of murder. Every night, while his mother and father sleep, Remi (who has "always had a certain affinity for the supernatural") hears a "fantome" train "panting puffs like the breath of some huge jungle beast". From his window, he witnesses the ghosts of two railroad men, one while and one African-American, acting out a deadly scenario. He and his streetwise neighbor, Niya, draw together to uncover an injustice half a century old. Containing more substance than most thrillers for this age group, this horror story is underscored by strong social commentary on poverty, waste and materialism.
______________________________________________________
It's a big house," thought Remi, as he tried to get to sleep. His bedroom window was sealed shut by what could have been a century of paint. He tried to open it, when the house began to shake as the engine came closer. It was too dark to see clearly, but a fierce heat from a headlamp and the shrieking of steal upon steel made Remi crouch low. Then the train passed from Remi's sight. "Did you sleep well. my son?" asked his mother. "Yes, except for the train in the night." His parents both shrugged their shoulders. "We did not hear a train." When Remi finds out he is the only one who can hear the train, he decides to ask Niya, his neighbor living downstairs, for help. Together they find out the truth behind a murder and a ghostly night train that threatens them with death.
The strength of the book is in the growing relationship between Niya and Remi. The adventure they both take, into a supernatural realm, is appealing to both young people and adults. Jess Mowry uses jargon popular with African-American inner-city kids which makes the story seem authentic. The suspense lasts right up to the last chapter. Definitely a book worth reading.
Reviewed by Wendy Bishop
_________________________________________________________
Kansas City Star, June 29, 2005
Park Hill officials remove book. Caregiver of third-grader had complained.
"I said, 'Well, I think you've made the right decision'."
Virginia Ground
Ghost Train is pulling out of Graden Elementary School.
Park Hill School District officials decided to remove the book from the school's library after the care-giver for a Graden third-grader called into question its use of profanity and racial slurs.
"It was maybe not the best thing to have in the media center where younger children had access to it," said district spokeswoman Nicole Kirby.
Parkville resident Virginia Ground, 72, raised concerns after her great-granddaughter checked out the book in May. Ground detailed 25 phrases she considered objectionable and sent the list to school district officials and the local chapter of the National Association for the Advancement of Colored People, among others.
The district responded by launching its policy for the re-evaluation of media center materials. It took only one step -- a June 16 conference call between Ground, Graden Principal LuAnn Halverstadt and Assistant Superintendent Gina Chambers -- to ease Ground's mind. The five-minute conversation began with a verbal commitment from Halverstadt and Chambers to remove the book from the Graden media center.
"I said, 'Well, I think you've made the right decision'," Ground said last week.
Ground had questioned whether media center staff had read Ghost Train by Jess Mowry before making it available for Graden students, who range from kindergarten through fifth grade. District policy dictates that every media center item be evaluated based on professional reviews and recommendations. It was unknown, however, whether media center professionals had read Ghost Train.
Ground's letter prompted Halverstadt and Chambers to sit down with the book, which follows Remi, a 13-year-old Haitian boy who moved with his family to Oakland, Calif. He befriends fellow eighth-grader Niya, the tough-talking girl upstairs whose life experiences include her father's drug-related death. Sprinkled among accounts of the pair's attempt to solve a murder mystery is social commentary on race relations and violence in the inner city.
Written confirmation of the agreement arrived in Ground's mail last week. Chambers signed the letter.
Kirby said the book had probably been placed in the Graden library because its reading level, independent of the content, would be appropriate for advanced fifth-graders.
According to an online database search, Ghost Train appeared in three Park Hill schools: Graden, Congress Middle School and Park Hill South High School.
Officials have no plans to remove it from the middle school or high school, Kirby said.
That doesn't necessarily please Ground, a former elementary school teacher. But she considers her mission accomplished.
"I just wanted to make sure it was out of the elementary schools," Ground said. "That was my crusade."
Mission indeed accomplished, Ms. Ground. Let's bury history like the murdered black man in the book and lie to kids by hiding the fact that most black people were treated badly -- a mild way of putting it -- and were called niggers in 1943... though of course that never happens today. This should help prepare our children for their futures in this now kind and enlightened world.
What's next on your crusade list? Trying to ban Huckleberry Finn? Maybe Doctor Dolittle (the original, anyway)? And/or books that portray slavery, racism and hate as if these things never existed and children aren't supposed to know?
If indeed you were a teacher, you were a very bad one, and like the bad things in the past, the damage you no doubt inflicted on kids will haunt us all in the future.


Jess Mowry